What are the different types of water tanks? Have you ever wondered the best way to store water? Water storage may not be as simple as you think, there are specific types of tanks that are better for certain kinds of water and some which can make drinking water become unsafe.
1. Vertical Rainwater Tanks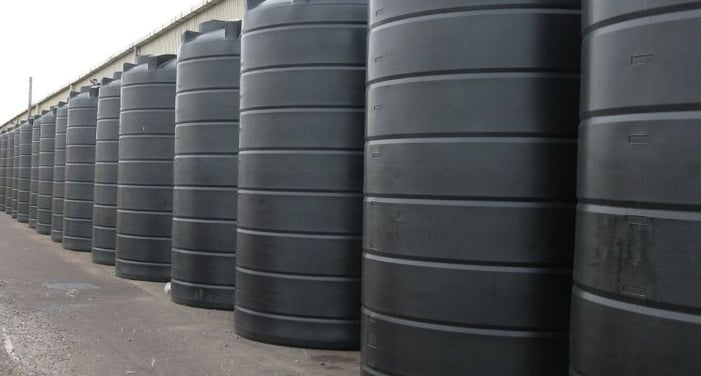 Vertical Rainwater Harvesting Tanks are designed for domestic and commercial applications and our range of round rainwater tanks are available in over 40 sizes, ranging from 50 litres to 90,000 litres. Our plastic water tanks allow rainwater to be stored and used at your convenience. Rainwater tanks generally require a rainwater filter to filter our leaves before the water goes into the tank.
These can be used for agricultural sprayers off a grain store, water for dairy wash down from barns, pressure washers, greywater systems for flushing toilets for commercial factories and office blocks and a number of applications for washing and cooling in the industry.
View our vertical rainwater tank here
2. WRAS Potable Drinking Water Tanks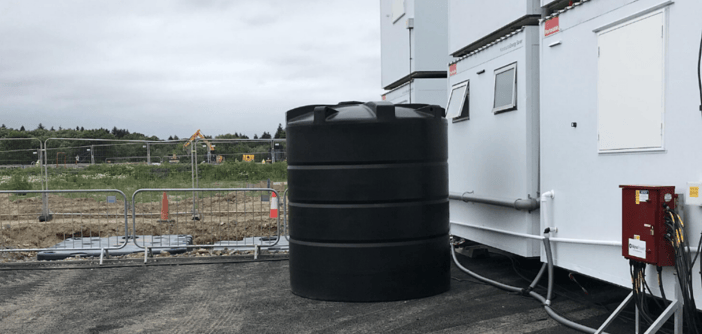 Our WRAS Potable Drinking Water Tanks are used for water intended for human or livestock consumption. These drinking water tanks or vertical water storage tanks, come in a choice of 51 sizes ranging from 50 litres to 90,000 litres. These plastic water tanks are constructed from food-grade polyethene ensuring durability and are finished with a smooth interior to protect against bacteria growth and allow easy cleaning. Our potable water storage tanks are rotationally moulded for many years of use.
View our drinking water tanks here
3. Insulated Water Tanks
Enduramaxx's Insulated Water Tanks are designed for use where temperature regulation is key and for the prevention of overheating or freezing of liquids. These water tanks covered in a black, insulation foam and can be used for drinking water tanks and process water tanks. This installation is available as 13mm or 25mm and available on all tanks sizes up to 40,000 litres.
View our insulated tanks here
4. Fluid Category 5 AB Air Gap Break Tank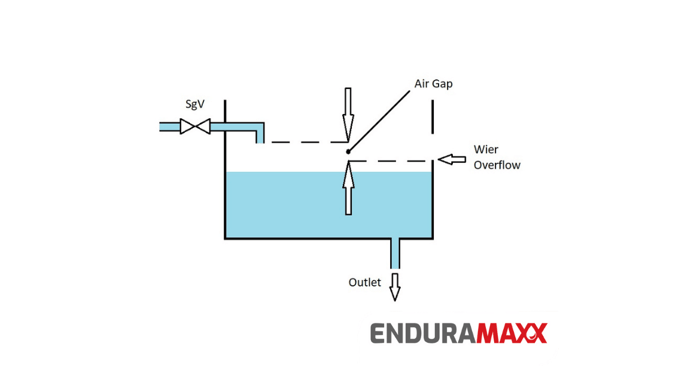 Fluid Category 5 AB Air Gap Break Tank is for mains water connected water tanks. The installation and use of cold-water storage cisterns and sectional tanks connected to the public water supply must comply with Water Supply (Water Fittings) Regulations 1999 in England and Wales. To meet these requirements, Fluid Category 5 Break Tanks must be used in this instance and available on water tanks up to 40,000 litres. Learn more on the scope of these air gap tanks here.
5. Open Top Tanks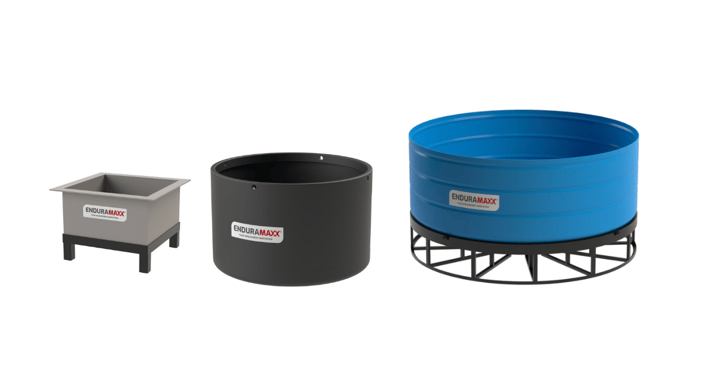 Our open-top water tanks are available for many applications including rainwater harvesting, agricultural & horticultural fertiliser mixing, dipping tanks, chemical plating tanks, mixing tanks & secondary containment for vertical tanks (retrofit bunded tanks). In aquaculture, these can be used as fish holding tanks, fish quarantine tanks, Koi tanks & fishponds.
View our open-top tanks from 110 litres to 25,000 litres here
6. Non-Potable Tanks / Process Water Tanks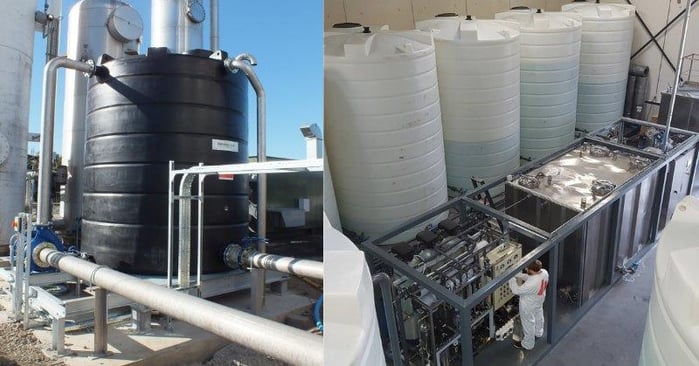 These non-potable water tanks are used in rainwater harvesting applications, water storage tanks for agricultural sprayers, water for dairy parlour washdown. Industrial Process Water Tanks have had larger connections fitted to the tank up to 4" BSP and welded flanges up to 12″, overflow and welded pipework.
7. Underground Water Tanks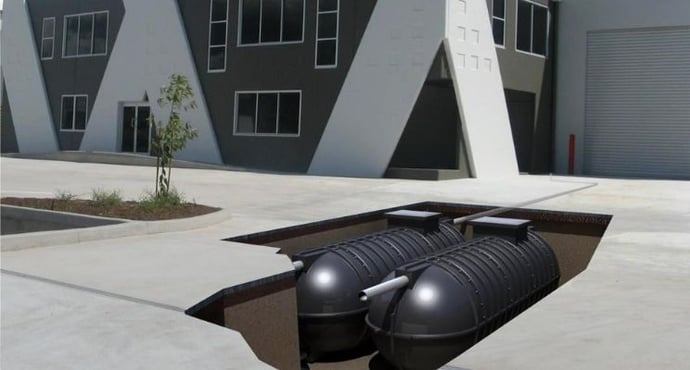 Enduramaxx's underground water tanks are a robust one-piece stress-free moulding with smooth hygienic internal and external surfaces and stocked from 800 litres to 9500 litres capacity. Our range of durable underground water tanks offers a space-saving solution for storing harvested rainwater intended for irrigation, watering plants, and washing cars.
8. Horizontal Transport Water Tanks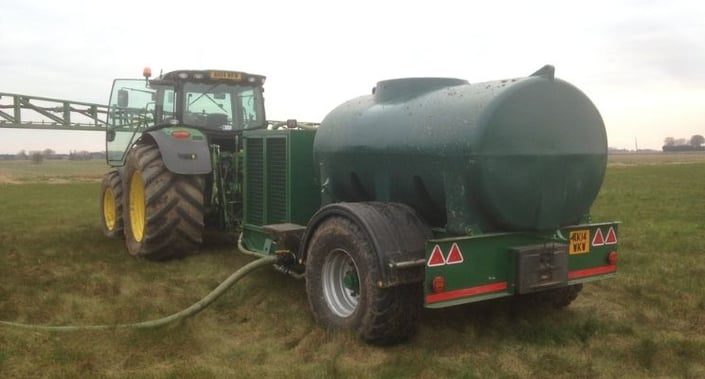 These Horizontal Tanks are designed for the transportation of clean and dirty water. The tanks are designed to mount onto a straight to flat surface through the pin mounting system. The horizontal plastic tanks are WRAS approved for the storage of drinking water (black, boat blue or natural coloured tanks) making them suitable for sprayer tanks for agricultural sprayers with a range of sprayer camlock fittings available to suit your sprayer.
9. Baffled Water Tanks

Baffled tanks are ideal for water transportation as the baffling is provided by the baffled which go through the tanks. The baffles stop the water sloshing from side to side during transport of the tank. Baffled tanks are ideal for car valets and window cleaners and many other applications.
These baffled water tanks are available from 400 litres to 1000 litres – view our full range online here
10. Slimline Water Tanks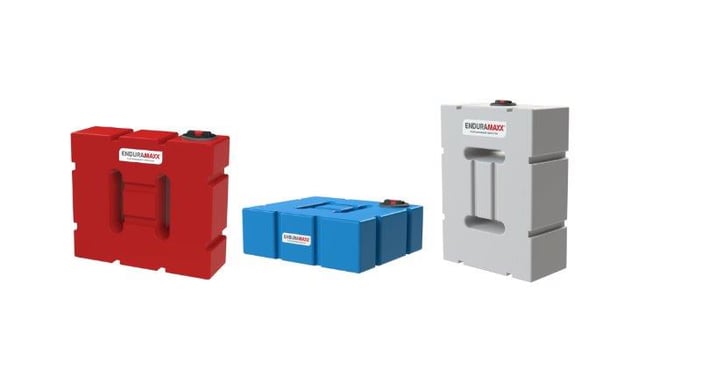 Slimline Water Tanks are available in flat, upright, or horizontal designs and designed to allow you to see the water level in the tank when they are manufactured in natural. These can be used as rainwater harvesting tanks, WRAS approved drinking water tanks for locations where its space restrictive.
These slimline storage tanks are used in agricultural, commercial, domestic, horticultural, industrial and irrigation markets as water storage for gardens & irrigation systems, loft header tanks, storage of potable water and storage of liquids where space is at a premium. Many of our smaller slimline water tanks are baffled to add strength and reduce water movement. These plastic tanks are available in 400 litre, 500 litre, 800 litre and 1000 litre capacities and are backed by a solid warranty.
11. Plastic Tanks for Fire Sprinkler Systems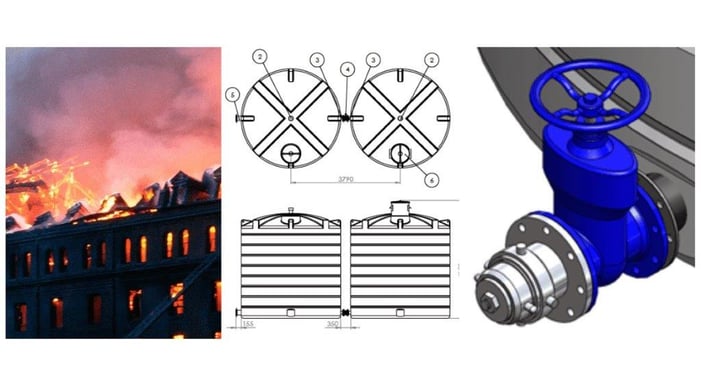 Polyethene tanks have a distinct advantage over steel tanks as they will not rust and are very easy to maintain, adaptable and can be fitted with numerous connection options to suit most installations. Firefighting sprinkler tanks will usually be specified with the following.
Float or Ball valve on the tank infill and outlet
AB airgap provision with side spill over weir and cowl
Option side access hatch is provided at ground level
BSRT fire fittings including couplings, adaptors, blank caps, flange adaptors and washers in 2, 2 1/2″, 4″ and 5″ variants.
Our 1000 slimline water tanks are designed for space restrictive locations and to fit through doorways. The 45,000-litre tank has been designed for Section 15 of Approved Document B deals with Fire Mains and Hydrants and subsection 15.8.
View our Fire Sprinkler Water Tank Range here
12. Raw Water Tank
Raw water tanks are designed to compensate for water losses in a water treatment system. Raw water tanks are used to hold the overflow and displacement water and generally fitted with level control for a mains water top-up. These tanks also compensate for water losses and protect pumps against dry running. More detail online on these tanks here.
13. Treated Water Tanks
Treated water tanks are used as part of the water supply system to provide a reserve of drinking water storage in the event of planned maintenance or supply or treatment problems. These tanks would be sized to cater for fluctuations in demand and should accommodate the peak demand in case of an interruption to supply. Storage may be from 500 litres to thousands of litres depending on the demand.
14. Swimming Pool Backwash Tanks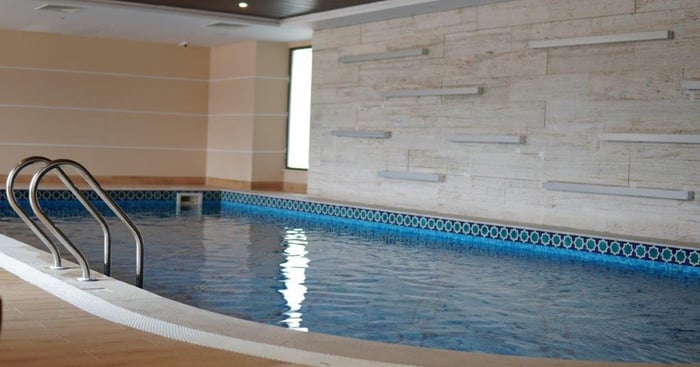 Swimming Pool Backwash Tanks designed for above ground – up to 30,000 litres or below ground installations up to 9,500 litres. These tanks can be customised with fittings, pipework, and flanges to suit your installation. View more details here
15. Bespoke Rectangular Plastic Tanks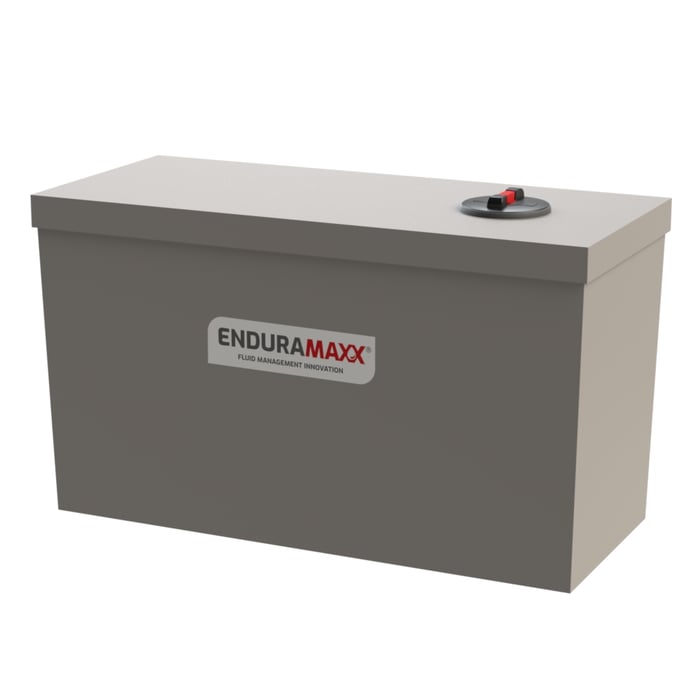 For where a moulded tank will not fit, we can manufacture bespoke water tanks for indoor and outside installations from sheet plastic. A number of these tanks can operate at temperatures of up to 65° C. Our Customisable Plastic Tanks can have included in there design, open-top or closed top with a fixed lid, removable or hinged lid; can be elevated on a frame, flat bottom or sump bottom; fittings including overflows, feet, lifting rings, flanges, nozzles and pipework, screw thread sockets; mixers and mixer mounting and internal divider walls and pump wells.
To discuss your requirements for bespoke water tanks – please get in touch or email us!
16. Water Tanks for Sprayers
Sprayer Tanks are designed to help reduce time spent filling your agricultural sprayers. These tanks provide convenient water storage for crop spraying and general agricultural use. Popular sizes include 5000l, 6000l, 10000l, 12000l, 15000l, 20000l, 22000l, 25000l and 30000 litres – there is a water tank to suit your sprayer. Rotational moulded and UV stabilised for strength and outdoor storage these tanks can be used for rainwater harvesting.
17. Horizontal Water Tanks for Sprayer Bowsers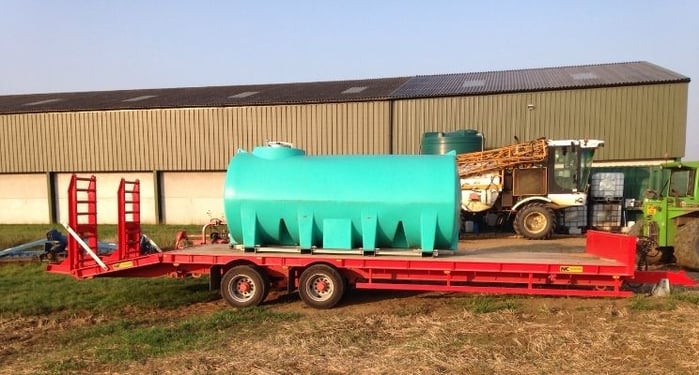 The horizontal tanks are available in sizes up to 13000 litres and designed to be mounted to a trailer for water and fertiliser use. View our range of horizontal tanks here.
18. Effluent Holding Tanks
Our above ground bunded effluent tanks are a tank within a tank and give the 110% bunded required for some installations. These vertical bunded tanks are available up to 20,000 litres – often quickly from stock – and can be fitted with a range of waste tanker connections including Bauer fittings, vents, and pipework.
Our range of effluent waste tanks can be viewed here
19. Underground Effluent Holding Tanks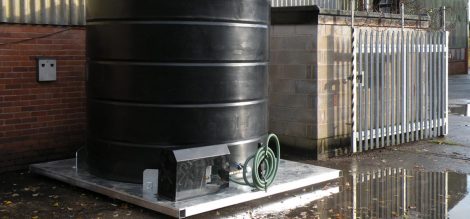 Often effluent holding tanks need to be stored underground out of sight, these are suitable for storing effluent when the tank needs to be buried. These tanks are supplied with flat areas for easy drilling for spigots, inlets, and outlets as required.
20. Static Water Bowsers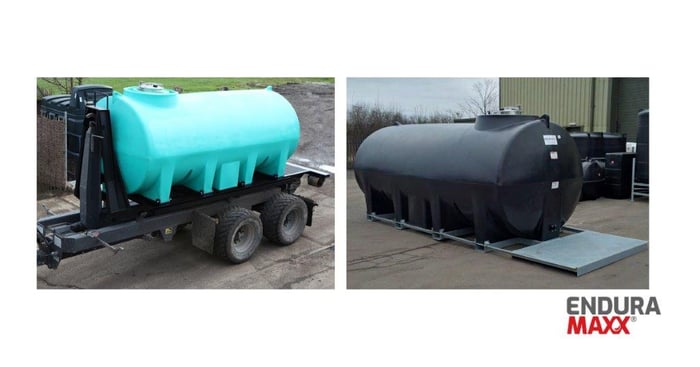 Static water Bowsers are used to store clean water for site welfare blocks for uses including toilet flushing, hand washing and showering. Water for construction sites is also used for a soakaway or percolation testing and concrete manufacturing, concrete batching plants often store water in 10,000, 20,000 & 30,000-litre tanks to act as header tanks as large volumes required to keep the concrete production running smoothly. Water for vehicle wheel washing can be a vital part of containing mud contamination from the site onto the public highway, water for ballast for burying tanks underground when pouring concrete.
Other uses for these static water bowsers include no-dig drilling and horizontal drilling which bulk water is used to create mud slurry to flush unwanted slurry when drilling. Water is also used for water tanks for dust suppression, we also have available a range of site and road tow dust suppressions bowsers from 500 to 10000 litres engineered to meet the challenges of dust suppression on construction sites, car parks etc
21. Static Water Bowsers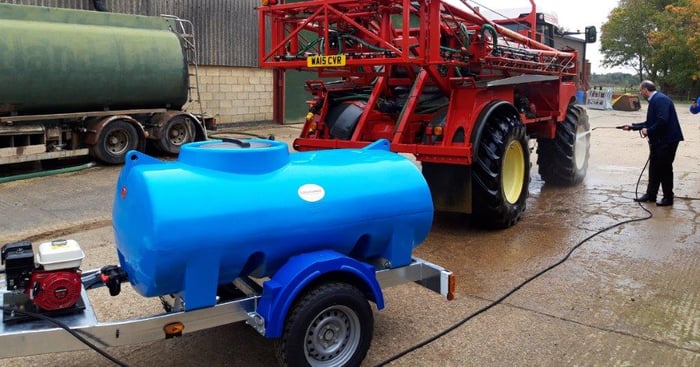 Other different types of water tanks include our towable water bowsers and Skid Water Bowsers are WRAS approved (black, boat blue or natural coloured tanks only) for the storage and transport of drinking water. They are ideal for livestock watering. These provide cost-effective on-site solutions where no mains water connections are available.
View our range of water bowser here
22. Above Ground Effluent Tanks
Above ground effluent tanks or sewage effluent holding tanks are suitable for temporary effluent waste storage installations where connection to a mains sewer isn't available. Other uses for these tanks include sites in remote locations, motorway construction sites, camping, glamping and events. These tanks are available in sizes from 2500 litres to 20000 litres either as bunded or single skin tanks.
23. Bulk Acid & Chemical Tanks
Bespoke Bulk Acid & Chemical Storage Tanks. As chemical tank manufacturers, Enduramaxx offer the ability to supply bespoke storage packages for chemical and bulk acid tanks based on the requirements of your application.
23. Effluent Sludge Storage Tanks
Effluent Sludge Storage Tanks are available from either Polypropylene or High-Density Polyethylene which is selected to suit your specific application. Sludge is a thick soft mud or other viscous liquids that are typically the by-product of wastewater treatment, industrial wastewater solids and settled suspension from potable water treatment.
24. Flocculation Tank
These Flocculation Tank are available as 2 and 3 Stage Flocculation Tank with single or double wiers and mixer bridges. These flash mixer and flocculator or coagulation tank are available in sizes from 1m3 to 4m3 size.
25. Plastic Chemical Process Tanks
Enduramaxx manufactures plastic chemical process tanks for bulk acid and chemical storage. As chemical tank manufacturers, we can supply bespoke storage packages. Based on the requirements of your application, our sales engineers work closely with our clients to offer the best possible advice and solutions to ensure every project is a success.
26. Bunded Chemical Storage Tanks for Chemical Storage
Enduramaxx Bunded Chemical Storage Tanks for Admix, chemical storage, wastewater, de-icer, and fertiliser storage. Pipework and flange customisation are available to suit your project. These bunded acid tanks contain a minimum 110% volume of the inner tank.
27. Chemical Dosing Tanks & Bunds
Enduramaxx's Chemical Dosing Tanks available from 50 litres to 1500 litres storage capacity. Anyone who works with chemicals needs to store them safely and these moulded PE or PP tanks are specifically designed for use within the water treatment, purification, chemical dosing and storage applications.
28. Clarifier / Clarification Tanks For Wastewater Treatment
Enduramaxx's Clarifier / Clarification Tanks are used for the continuous mechanised removal of suspended solids or solid particles from a liquid. These plastic water tanks, or conical clarification tanks or clarification cone bottom tanks are available in a range of sizes. open top clarifier water treatment is part of the primary water treatment process to remove solids.
29. Cone Bottom Conical Tanks for Complete Drain Applications
Cone Bottom Conical Tanks provide the ultimate solution for applications that require a complete drain. These help for the efficient processing of some liquids and can save money and time when compared to a flat bottom storage tank. Other applications for these conical cone bottom tanks include a settlement tank or sludge tank.
30. Brewing & Brewery Tanks
Enduramaxx's Brewing & Brewery Tanks are known as cone tanks or conical tanks are ideal for use as fermentation vessels or tanks during the second phase of beer production. They can be used as conical fermentors for both top and bottom-fermented beers.
31. Bunded Fertiliser Tanks
Enduramaxx bunded fertiliser tanks are the perfect choice for the safe storage and dispense of liquid fertiliser on the farm. Constructed using corrosion resistant, UV stabilised high-density food grade polyethene and designed for the containment of liquids up to a Specific Gravity of 1.5 our bunded fertilizer tanks will provide many years of use.
32. Conical Water Tanks which Completely Drains
The conical water tanks which completely drains are the ideal solution for applications that require complete drainage and are a necessity for efficient processing of some liquids. Using a cone bottom tank for some applications can save money and time when compared to a flat bottom tank. Our Conical Water Tanks are available with 5, 15, 30, 45 and 60-degree cone.
33. Dished Based Solids Settling Tanks for Water Treatment
Enduramaxx dished base solids settling tank with conical bases are mounted on steel frame used extensively for settlement and concentration of difficult materials that form sludge. This enables liquids to be removed for disposal & recycling through the concentration of the sludge in the bottom of the cone.
34. Floodwash Tanks
Floodwash tanks setups significantly reduce the labour required to clean cattle yards, piggeries, feed pads and farm sheds. In a well-designed system, cleaning is very effective and water use is contained. These water reuse systems use either freshwater, water from the plate cooler or storm-water or water which has already been used.
35. Industrial Process Water Tanks
Industrial Process Water Tanks are used in industry, manufacturing processes, power generation and similar applications. Industrial water tanks are used in clean water and wastewater applications for storage, equalisation tanks and as a buffer holding tank. Customised & bespoke water tanks are available for potable water and treatment processes in addition to our rotational moulded tanks. Standard tanks are often available quicker and easier to install than fabricated thermoplastic & galvanised steel tanks.
36. Wastewater Equalization Tanks for Inconsistencies of Flow
Equalization tanks play an important role in wastewater management for the control of wastewater within the wastewater treatment system. Wastewater treatment plants are designed to operate at certain flow rates, whether as a continuous flow or batch flow system.
37. Trade Waste Storage Tanks for Wastewater & Effluent
Trade Waste Storage Tanks can be manufactured to suit your requirements with a range of fittings, flanges and pipework to collect and empty these tanks. Industrial waste tanks are available in PP or PE material to handle the different wastes or hazardous chemicals being stored in this tank
38. Water Treatment Tanks for Wastewater Systems
A Water Treatment Tank is synonymous with water treatment systems and Enduramaxx's large range of water treatment tanks are suitable for storage for water treatment to be safe and efficient for both clean and contaminated water. These tanks are able to store untreated, treated and greywater to help for an efficient water treatment system.
Enduramaxx Water Storage Tanks to Meet All Needs
So whether you are storing rainwater to put away for irrigation or watering the garden, or you need water for an industrial process water tank or drinking water storage tank, we have a water storage tank to meet your needs. We can help you assess your situation to determine what type and size of water tank are best for you. We specialise in all types of moulded and bespoke water tanks and we can customize them you. Contact us today to see how we can meet your needs.
What are the different types of water tanks? Enduramaxx will have a solution for you!
Related Posts
Enduramaxx manufactures a range of agricultural farm water tanks which include arranging of...
Water Storage Tanks UK – Large round plastic Water Tanks are used on many applications for...
Enduramaxx now lists all its core water tank range, on our website including the standard moulded...